Thursday, September 21, 2017
Wednesday, September 20, 2017
Minoa, Mycenae, Archaic Greece and the Mediterranean that Unites them With Asia and Africa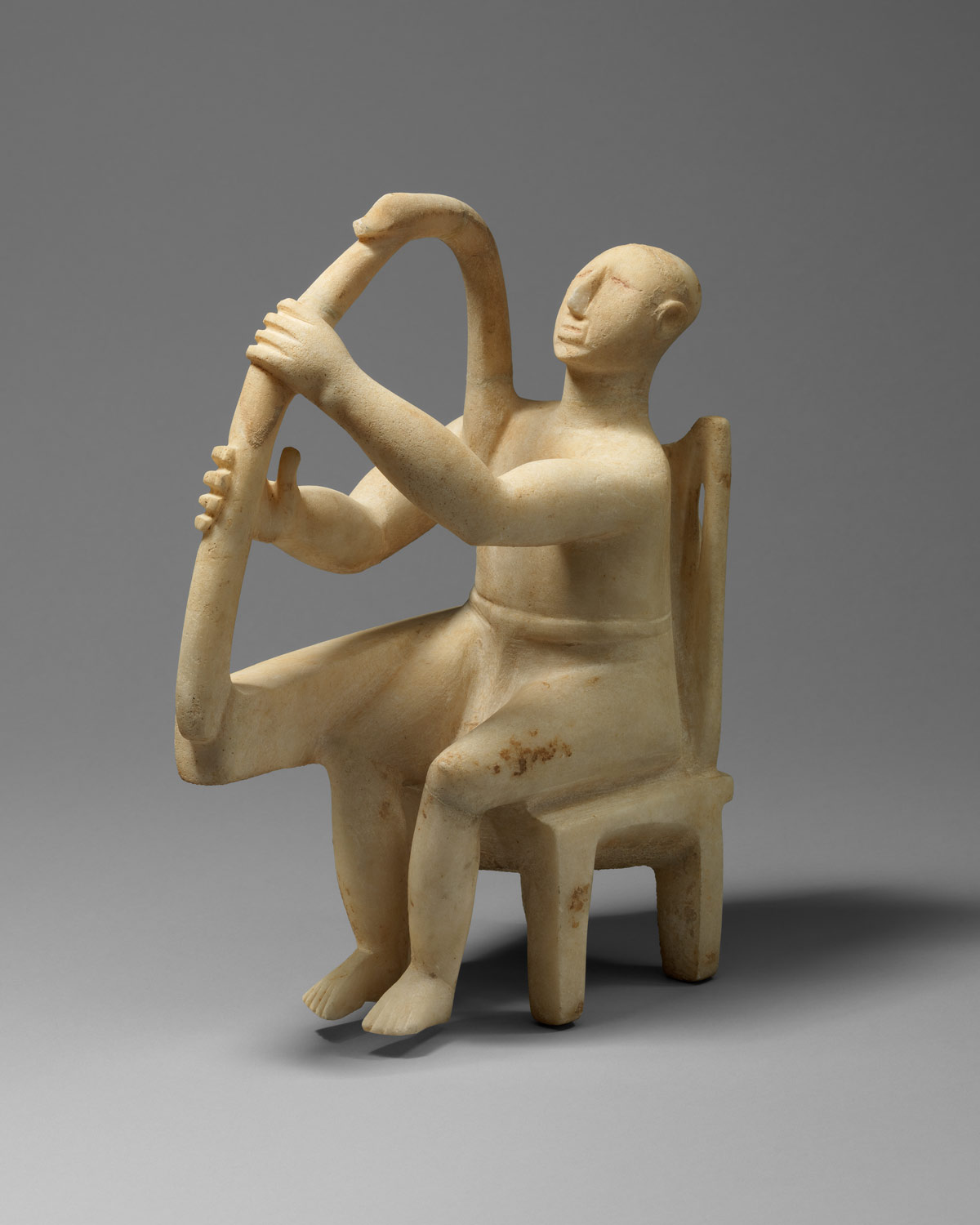 Lyre Player, 2700-2500 bce, marble, 9",

Cycladic
Some of what we've shared with you this term fits into what's called
historiography
-- the history of Art History. Today's class places greater focus on that as we begin using more of the tools of Art History. I start this way to share some of the foibles that have occurred in the name of recording facts, and also many of the extraordinary revelations. Today's materials fit inside the vein of historiography, and give a preliminary introduction to using formal analysis to draw conclusions about the makers of a particular culture.
Black Athena
, Black Pharoahs and Asians in Italy: Connecting Greece to her neighbors
Key Terms: style: period style, regional style, representational style, saturation, naturalism, Minoan, Mycenaean
style:distinct
combination of form and content (Stoksdad)
period style
: traits in common detectable in works of art and architecture from an era (Stoksdad)
regional style
: traits that persist in a geographic region over time, distinguishable from neighboring regions (Stoksdad, roughly)
representational styles
are those that include recognizable subject matter including naturalism, realism, and illusionism
saturation
, the quality of brightness or dullness in a color.... a highly saturated color will shout it's hue/color name-- pure yellow, pure red. Colors of low saturation will appear dark or murky. (Stoksdad, roughly)
color
, see Stoksdad, xxvii
Civilizations in the Indus River Valley give little evidence of Social or political hierarchy. Because the language of the Indus Valley Civilizations has not yet been translated, many questions remain open. There is some indication that the caste system familiar from recent centuries in India had already begun, with a Warrior, Priest, and Peasant class. At this time, though the plan indicates that people lived in relative equality and in close proximity to each other.
Images from Harappa and Mojenjo Daro, the two major cities under excavation, appear to deal much more with everyday life than spiritual or political life. Some examples:
Votive Figures, Models, or Toys, from about 2500 bce

Thousands of stone seals have resurfaced during excavations at Indus Valley Sites. some examples:




The cities of the Indus River Valley were not the only ones that suggest this more equitable government structure. My favorite is the earlier 'giant village' of Çatal Höyük in Anatolia (modern day Turkey.), which I mentioned a couple weeks ago and wrote about in the article on mud bricks. If you'd like to know more about this city, where people lived on roofs, and slept on their dead, here's a resource with links to others.


In Ancient Minoa, on the Island of Crete, life offered a higher degree of luxury than we've seen elsewhere,

Fisherman, Akrotiri, Thera, ~1500 bce




Key Work:

Bull Leaping,

wall painting, Knossos, Crete, ~1500

including time for what appears to be recreation, including fishing, and boxing, but focused on the so-called sport of Bull Leaping.
Minoan artwork has a highly decorative quality, with curving lines, all-over patterns, and bright colors. In many areas of Minoan palaces, every possible surface receives decorations. (We'll encounter this horror vacuui as a trait of several cultures).
Key Work:
Young Girl Gathering Saffron (4-4), ~1500 bce
Key Work:
Young Girl Gathering Saffron (4-4), ~1500 bce
Snake Figurine, ~1500, Faiance


Fisherman, Akrotiri, Thera, Greece, ~1500 bce, and Fishing and Fowling scene from the tomb of Nebamun, 1350 BC, Egyptian source, British Museum
Painting from Minoan Crete, ~1500bce, painting from Lascaux Cave, ~15,000 bce
Key Work:
Bull Jumping Mural, (4-5) , Knossos ~1500 ce
What three words would you use to describe the style of Minoan Art? Do you see any similarities between Minoan art and art of other civilizations we've seen or that you know?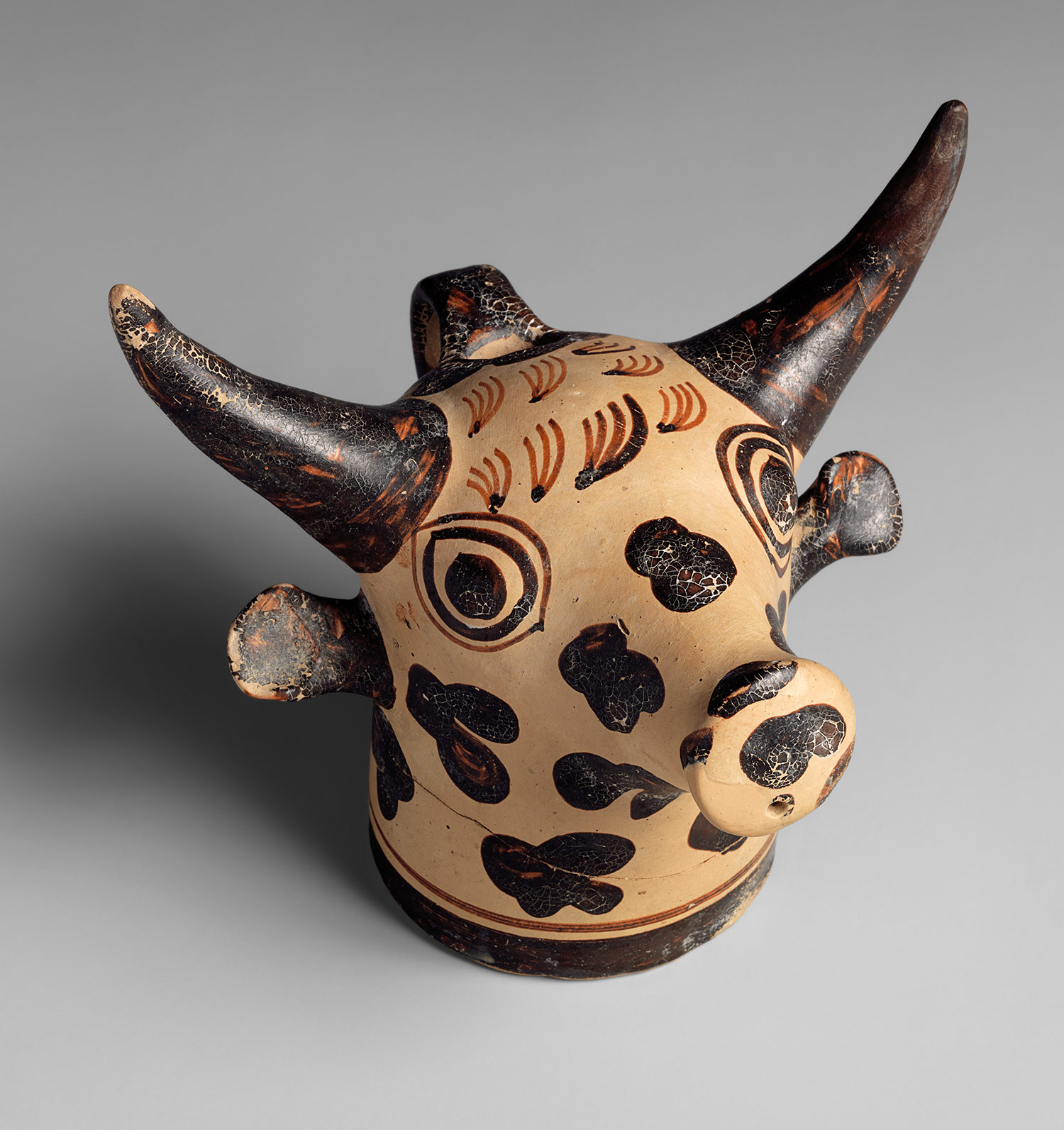 Rhyton in the form of a bull's head
, ca. 1450 BCE
.
;
Minoan
Crete,
Terracotta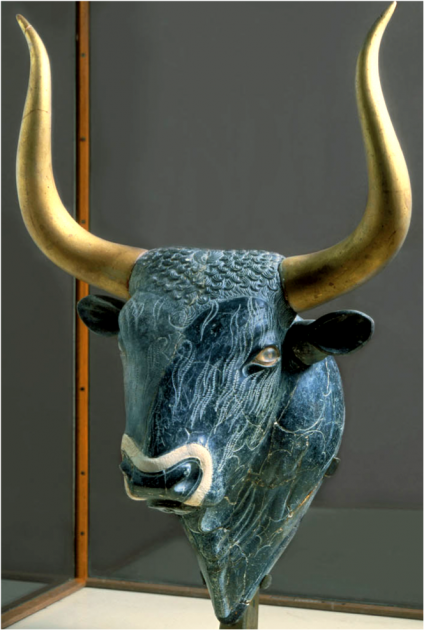 Bull's-Head Rhyton, c. 1550-1450 BCE (Minoan Crete. Steatite with shell, rock crystal, and red jasper.
The gilt-wood horns are restorations. Height 12
Bull's Head Lyre, ~2500bce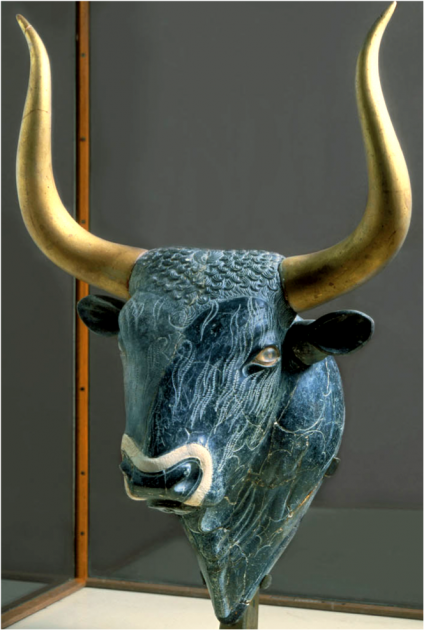 Bull's-Head Rhyton, c. 1550-1450 BCE (Minoan Crete.
Steatite with shell, rock crystal, and red jasper.
The gilt-wood horns are restorations. Height 12
Not too long after the Minoan civilization fell into decline-- probably due to a combination of natural disaster (earthquakes) and hostile takeover-- the Myceneans occupied Crete and other islands of Greece after the Minoans. Though their art shares some traits, you can see a distinct difference between Mycenean art and architecture and that of Minoan Crete. Some examples of Mycenean work:
Key Work:
The famous Lion Gate, 1250 bce, image
source
.
Key Work:
Lion Gate, Detail. About 1250bce. Monolithic Stones, Mycenae
Simply by studying this reconstruction drawing and the ruins above, what can you tell about the Mycenean Civilization? How does it seem to differ from Indus Valley civilization and Minoan?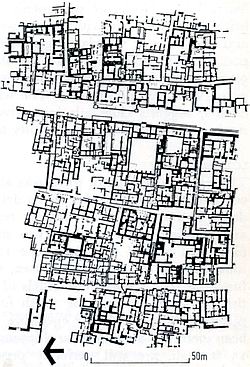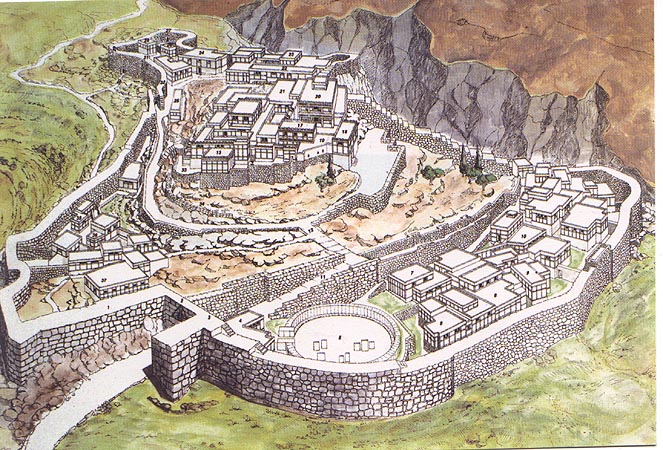 Palette of Narmer,
siltstone, 3200 bce.
Egyptian art,
perhaps more recognizable than any other period or style. What do you think?
However, Egyptian art didn't spring fully formed in Egypt. Much evidence points to borrowing from one of the civilizations we've looked at already, the Mesopotamians... or to the Mesopotamians borrowing from the Egyptians. Here's a good example of close correspondence.
cylinder seal, ~3000 bce, Uruk, Mesopotamia; narmer palette
Visual art plays an important role in establishing the power of leaders during their lifetimes, and the flavor of that power. History also plays a role in establishing or breaking down the power of leaders
after the fact.
The history of Egypt offers some great examples of how history writers shape knowledge and understanding.
National Geographic
does a great job telling one story about the rewriting of Egyptian Art
here
.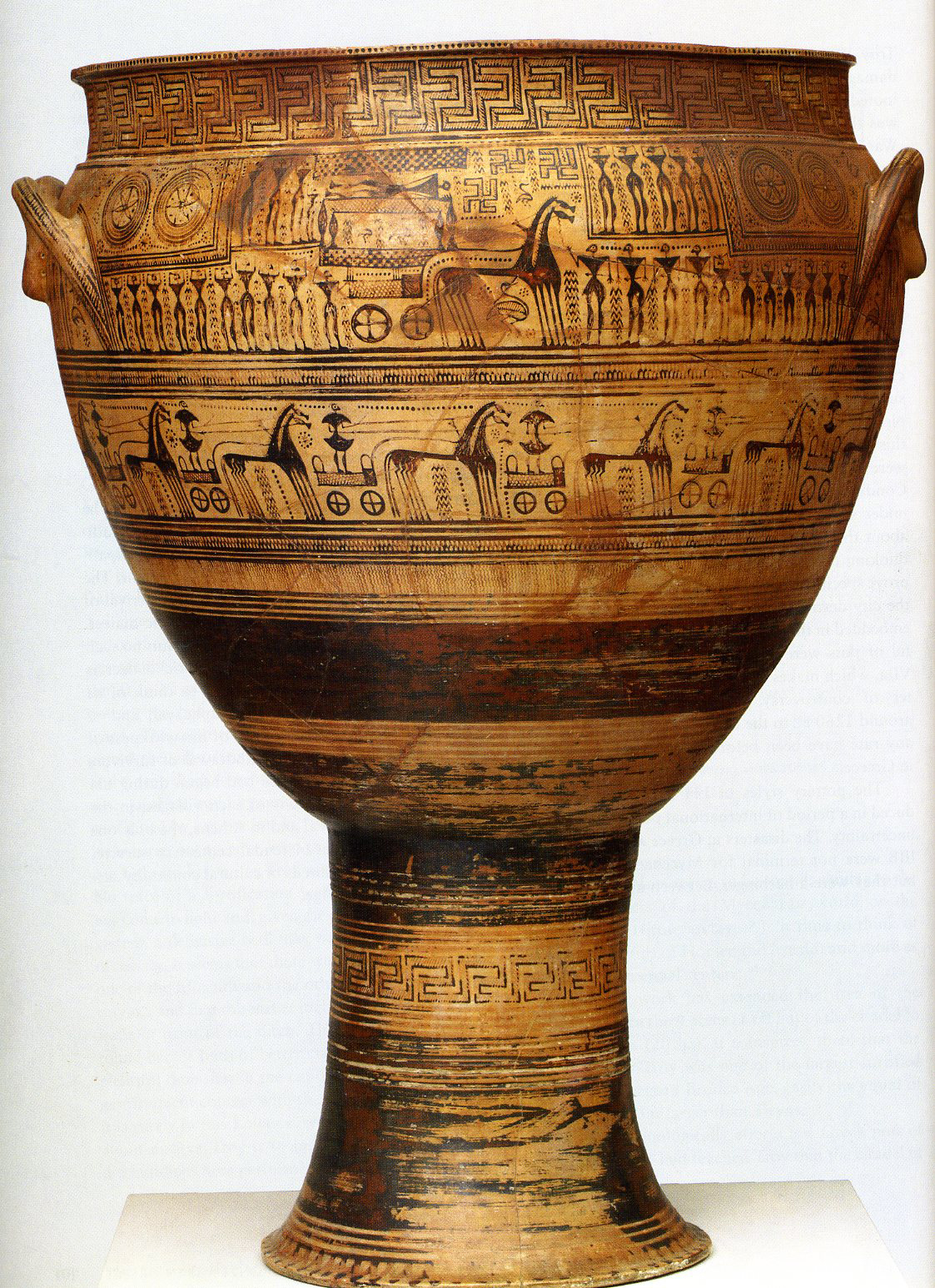 Key Work:
Funerary Vase from Dipylon (4-13),
~800-700 bce, footed krater, Geometric Period of Greek Art
This image of a wheel decorates the Standard of UR, a Sumerian object from about 2500bce, or 4500 years ago, Mesopotamia.
it's big! This is a different vase by same master




Key Work:
Kouros
from Attica (4-19),
source- metmuseum, Archaic Greek, 580 bce
As I said, I imagine that of any period in the history of Visual Culture (including Art History), more people would recognize Egyptian Art than any other period or style. But plenty of individual pieces will confuse you. Looking at the above piece, What do you think? What elements of
style
do you notice? What clues distinguish this piece?
Egyptian Art provides a great example of how learning to recognize details of style allows you to identify art from a particular culture simply by 'reading' the clues.... but tricky pieces and periods will appear!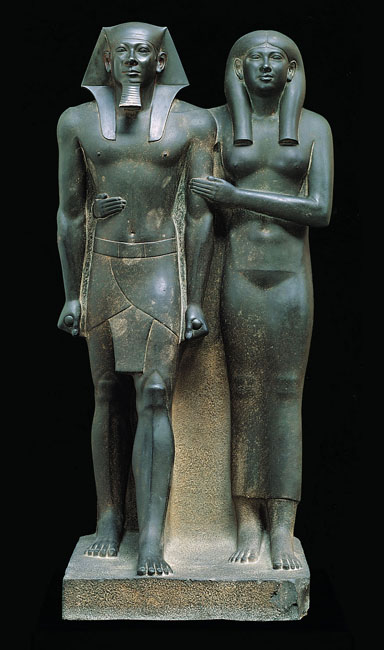 Menkaure and His Queen

,

c. 2500 B.C., Egyptian, Old Kingdom.
What features or artistic choices tell you unmistakably that it comes from Egypt?
What happens, though, when I place these two sculptures side by side?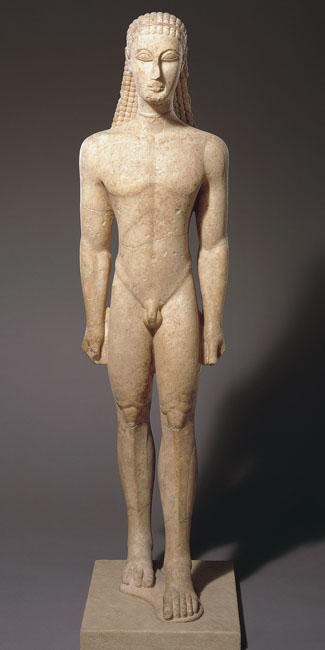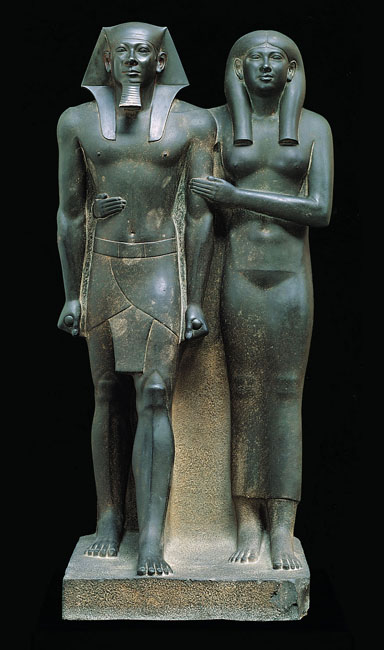 Describe similarities and differences. What conclusions can you come to about where the sculpture on the left came from? We'll answer this question fully in class, but I thought you might like to see his hair, as well.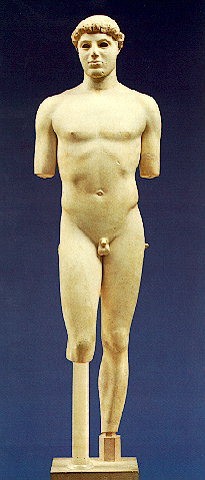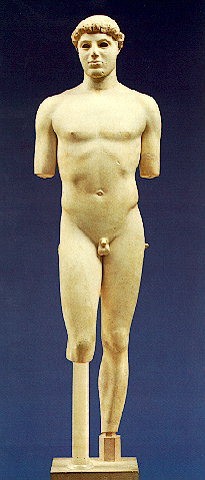 Menkaure and his Queen,2500bce, Egyptian, Kouros from Attica, ~600 bce, Greece, Kritios Boy, ~480 bce, Classical
The Great Greeks
Our ideas of Ancient Greece have influence the history and aesthetics of the United States far more than any other culture of ancient times. Our understanding of ancient Greece continues to influenced our ideas of government, art, history, science, exploration, writing and literature, theater, law, human relationships, social structure, and much more.
Timeline of ancient Greece, with representative examples
Cycladic Greece
(~6000 bce-2500 bce)
Cycladic Lyre Player,
about 2700bce
Minoan Greece
~3000 bce-1500 bce
Key Work:
Young Girl Gathering Saffron (4-4), ~1500 bce
Mycenean Greece
1600-1100 bce (Helladic Greece)
Mycenean Dagger blade, Mycenae, ~1600bce
Greek Dark Ages
.... very little work remains from 1100-900 bce:
Early Greek Geometric Style
900 bce-700 bce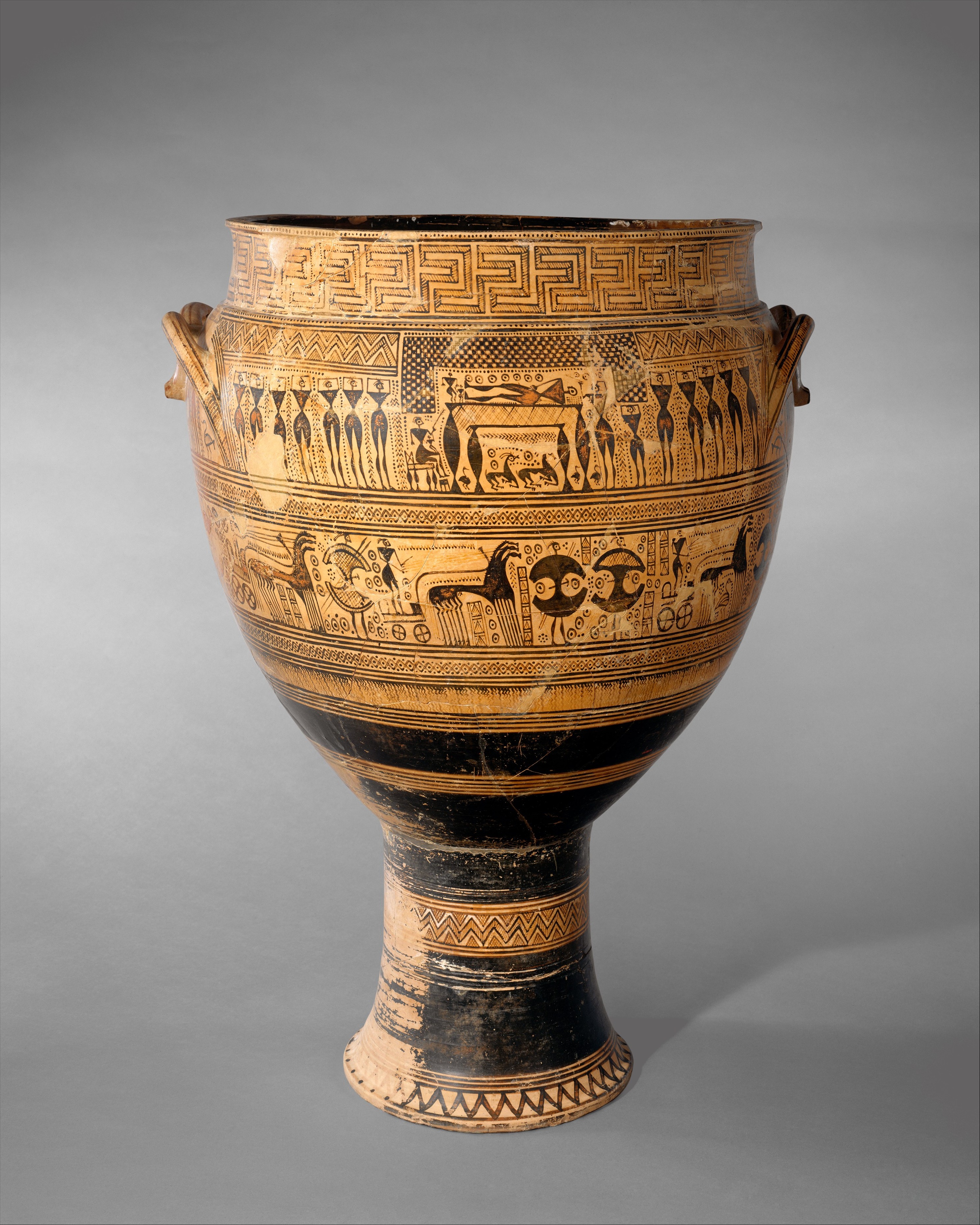 Key Work

:
Funerary Vase from Dipylon (4-13),
~800-700 bce, footed krater, geometric style
Orientalizing Period: ~750-600 bce
Following the Period of the Geometric style, a period of political instability and military intervention involving Egypt, Greece, Mesopotamia, Anatolia (Turkey) and Phoenicia (Eastern Mediterranean) arose; this brought Greece many technological and literary innovations—including the alphabet!—and these interactions left their mark on the artwork: Greek pottery from this time show demonstrable Egyptian and Mesopotamian influence.
Corinthian Olpe, black figured ware, so-called Orientalizing Style, 600 bce




Archaic Period
600-480 bce ,
Exekias, Vase (Amphora) with Achilles and Ajax, ~540 bce, archaic greek
Exekias, Vase (Amphora) with Achilles and Ajax, ~540 bce, archaic greek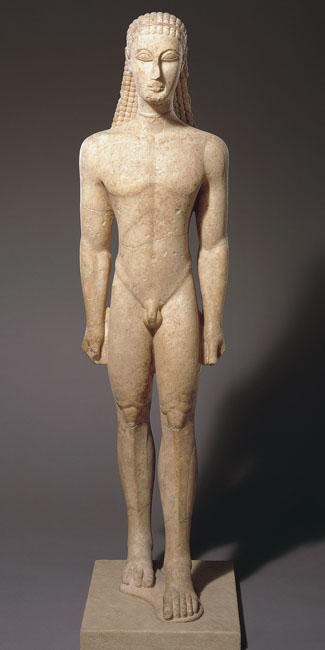 Key Work
Kouros, from Attica, Greece, ca. 600 BCE. Marble, 6′ 1/2″ high.
Metropolitan Museum of Art, New York.
Key Work:
Peplos Kore
(4-20),
~530 bce
archaic period Great source on the Peplos Kore here:
Beginnings of Greek literature (in which many see Mesopotamian influence), and the early investigations in representing anatomy which resulted in the Archaic style of sculpture: freestanding nude male figures and clothed females, the static, somewhat lifeless 'archaic smile',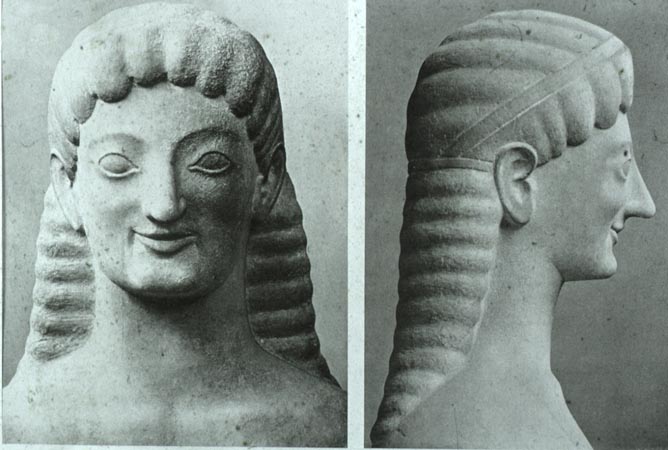 your beautiful archaic smile
Classical Greek Period 480-323 bce
Kritios Boy, standing in contrapposto, Sir Kenneth Clarke called him, "The first beautiful nude in history," 480 bce
extreme naturalism in sculpture, relaxed, freestanding males in contrapposto the ideal, and the development of the Classical orders in architecture, with the Parthenon providing the most recognizable examples.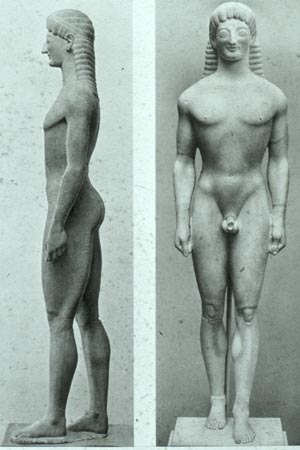 Extra Materials
Cornell University Professor of History
Martin Bernal
published a book in 1987-90 that forever shook the way we looked at the history of Greece. Though many dispute his thesis in whole or in part, he demonstrated the way that History could contain as much story as fact, and that racism had colored much of the story of our human past.
The following video introduces Bernal's theory, and may open up for you the reasons for the controversy. I give you a link for just the first ten minutes. Feel free to watch the rest of the program. Start here:
http://ngm.nationalgeographic.com/2008/02/black-pharaohs/robert-draper-text.html
Posted by

Betsy Towns
at 2:15 AM
No comments: