Oct 1 Tuesday The Gods in Color
Homework: Stoksdad, 97-113
Key Work:
Exekias vases (4-21 and online sources), archaic period
500-323 bce Classical Period
Kritios Boy, Classical Greek, ~480 bce
extreme naturalism in sculpture, relaxed, freestanding males in contrapposto the ideal, and the development of the Classical orders in architecture,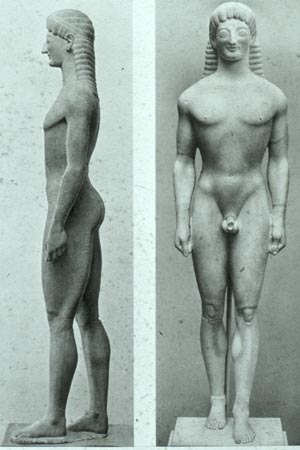 with the Parthenon providing the most recognizable examples.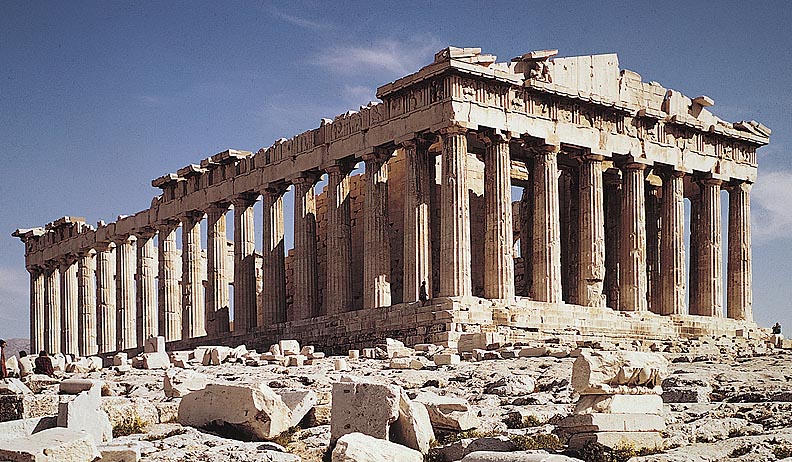 Iktinos and Kallikrates, Parthenon, Acropolis, Athens, ~447 bce


key work:

Pediment of Parthenon (Elgin Marbles) 4-29,
323-146 bce Hellenistic Period
marked by Greek political expansion begun under Alexander the Great. Artwork demonstrates exaggerated grace and spiraling, twisting movement as well as emotional intensity not seen in Classical Artwork.
Greece after Greek Rule
Roman Conquest
The Greek Style, particularly the classical Greek style, has had extraordinary influence … on the entire Mediterranean, broadly speaking
Greek Temple at Priene, Turkey, ~300 bce source
(Turkey, Egypt, Syria, Phoenecia, Italy and more) and then all of the many neoclassical periods around the world:
Bramante, Tempietto, 1502
the Renaissance, of course, is the rebirth of classicism, and periods of Neoclassicism have significantly colored the history of art in
Thomas Jefferson, Monticello, Charlottesville, VA, 1772
France, Italy, England, (and to lesser extent all of Europe), USA and more.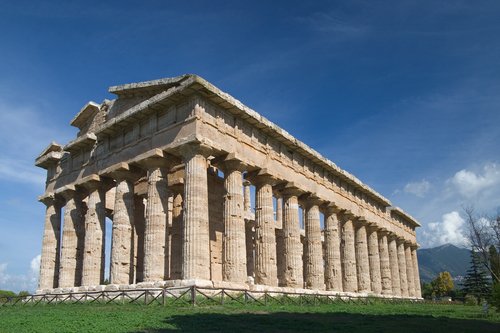 Key Work

Temple of Hera, Paestum, 550 bce, Greek, Doric Style (4-15)
The case of the White Temple
Classical architecture and in particular Greek temple design influenced political buildings and the look of democracy around the world. We based our aesthetic on that look… but what, actually, did it look like?
In every Greek city, people dedicated vast resources to create temples to honor particular gods. The typical temple included an open porch with columns, and a closed portion, or cella, where a statue honoring the god or goddess would prevail.
Temple of Athena Nike, Acropolis, Athens. Many spare bits of the temple have recently been reattached. The temple would have included a statue of Athena victorious... in the case of this temple she was represented without wings. 427-424 bce


Nike of Samothrace, (Athena Victorious), 2nd century bce Hellenistic
These statues, as well as innumerable other sculptures of gods and humans executed in marble and stone formed an ideal which western art history has never let go of. Greece fell to Rome in 146 bce, at which time the Romans, having imperial ideas already evident in Greece after Alexander the Great, emerged powerfully.
The Romans admired the work of the greeks enormously; but they needed materials for construction and warfare even more. They burned great marble pillars and monumental statues to obtain lime for concrete, often making small copies in marble to document the original. They melted bronze sculptures, after documenting them with marble copies, usually shadows of the original. Only a very rare few Greek bronzes remain.
Key Work:

Riace Warrior

(4-27), 460-450 bce, classical greece
Romans allowed Greek architecture to fall to ruin, and, eventually, the Roman empire ran its well-known course, decline, transition to Christianity, takeover by Byzantine rule from the 400's to 1450's, then Ottonian Turkish Rule until the early 1800's. A combined British, French, and Russian force overthru the Ottonian leaders… and that gives our story another beginning.
Greatly abbreviated, the story goes like this.
Anton Graff, Thomas Bruce, Lord Elgin, ~1788

At the time of these battles, Thomas Bruce, 7th Earl of Elgin, came upon hard times at home. His finances were a wreck. He acquired two salves for his suffering: he married an heiress and achieved an important military appointment, which took him to Greece. These dual solutions also allowed him to pursue his true love: classical antiquities. He dispatched his secretary to collect casts and make drawings around the acropolis in Athens.
key work:
Pediment of Parthenon (Elgin Marbles) 4-29,
Because the Parthenon was serving at this time as a munitions store for the Turks, he had to receive permission for his secretary to be in that area. The secretary makes some now highly controversial deals with the Turks. Before long, the proposed casts of objects turn into crates, packed with the original objects
key work:
Pediment of Parthenon (Elgin Marbles) 4-29,
Elgin ships the sculptures home, at huge personal cost, to decorate his country villa.
Eventually, he divorces his philandering wife, runs again into financial difficulties, in large part because of the expense of collecting the sculptures from the Parthenon, and sells the fragments of this building to the British Museum at a fraction of the cost. Had they remained in Athens, they would not likely exist, as a shot at the Parthenon (remember, it's a munitions store) led to an explosion that destroyed large portions of the building. Yet, the Greeks wonder if sculpture and artifacts acquired through shady dealings with a different invading party is reason for them to remain in England.
key work:
Pediment of Parthenon (Elgin Marbles) 4-29,
Even at the time, many described Lord Elgin's work as a travesty, or even a rape. The poet Byron visited the site, and rebuked his fellow Lord scathingly in verse:
key work:
Pediment of Parthenon (Elgin Marbles) 4-29,
Dull is the eye that will not weep to see
Thy walls defaced, thy mouldering shrines removed
By British hands, which it had best behov'd
To guard those relics ne'er to be restored
-Byron, "Childe Harolde's Pilgrimage"
So, what does an experience of 'the Parthenon' today look like… and what should it look like?
Scholars working on the Parthenon spend time at the Athens Museum,
Bernard Tschumi, Acropolis Museum, 2008
where many remnants of the Parthenon are housed, go to the
British Museum to see the so-called Elgin Marbles,
Parthenon Marbles in Copenhagen, Denmark
travel to Denmark, to see a set of marble sculptures which a Danish sea captain bought from a street vendor in Athens,
spend time at the actual Parthenon ruins on the Acropolis in Athens,
and study reconstructions of the building. None of these, of course, gives a complete experience of what the Parthenon and other temples that informed our architectural and sculptural aesthetic may have looked like in their own time.
key work:
Pediment of Parthenon (Elgin Marbles) 4-29,
During the time of its stewardship over the sculptures, the British Museum spent vast resources of elbow grease and chemical experimentation to scrub and scour and clean the marbles of all traces of age and paint that they believed unoriginal
This scrubbing informed scholar Martin Bernal who leapt into hot water with the publication of his Black Athena, which proposed that the influence of African and Asiatic peoples and cultures on Ancient Greece had been suppressed by European Scholars throughout the 19th century.


The cleaning of the Parthenon Marbles in the British Museum illustrates one aspect of his point.
Sculptural ideals in Europe and the United States from the 1400's to the mid 1900's were based on a particular idea of Greek Art, which looks pretty much like this, and, presumably, you recognize almost as readily for the simple marble surfaces and .
However, in 2008, and exhibit travelled the world called "The Gods in Color" which showed how the marbles on which we've based our ideal of art may have looked in their own time.
Alexander Sarcophagus, late 4th c. bce. Now in Istanbul Museum. Many mysteries surround the sarcophagus; find a great description of some known details here.
Here's
another example
of a painted classical object reported by the University of Cinncinatti.
On Seeing the Elgin Marbles
My spirit is too weak—mortality
Weighs heavily on me like unwilling sleep,
And each imagined pinnacle and steep
Of godlike hardship tells me I must die
Like a sick eagle looking at the sky.
Yet 'tis a gentle luxury to weep
That I have not the cloudy winds to keep
Fresh for the opening of the morning's eye.
Such dim-conceived glories of the brain
Bring round the heart an undescribable feud;
So do these wonders a most dizzy pain,
That mingles Grecian grandeur with the rude
Wasting of old time—with a billowy main—
A sun—a shadow of a magnitude.