Édouard Manet, Le Déjeuner Sur l'herbe,(18-15)
Édouard Manet, Olympia (18-16)
Édouard Manet, Bar at the Folies-Bergère, (18-21)
Yasumasa Morimura, Daughters of Art History, not in book Renee Cox, Cousins at Pussy Pond, not in book
Giorgione,

Sleeping V
enus ,
1510, Venetian Renaissance
"...a courtesan by Titian..."

Titian's
Venus of Urbino,
1538, Venetian Renaissance
Jean Auguste Dominique Ingres, La Grande Odalisque, 1814
Delacroix, Odalisque, 1825
Alexander Cabanal,
Birth of Venus,
1863, Salon painting, french academic painting

The stuff that lead to Cabanal (the old masters)
the stuff Baudelaire wants:
the sort of object Baudelaire calls for...
Edouard Manet,
Olympia

,
1863, French Modernism, Realism*
Images from Constantine Guy
Courbet,
The Studio of the Painter: a real Allegory,

1855
(880)*
on the left, the 'real life' that courbet paints, while turning his back on the model available to pose as venus as Salon painters would have done. On the left, the artists friends, including Baudelaire himself, and novelist Georges Sand, art critic and realist novelist Champfleury, and anarchist Proudhon.
who is our painter of modern life?
Eduard Manet,
Olympia,
1863, oil on canvas
"Manet's Olympia," by
Margaret Atwood
, originally published in Winter 93-94
Ploughshares
She reclines, more or less.
Try that posture, it's hardly languor.
Her right arm sharp angles.
With her left she conceals her ambush.
Shoes but not stockings,
how sinister. The flower
behind her ear is naturally
not real, of a piece
with the sofa's drapery.
The windows (if any) are shut.
This is indoor sin.
Above the head of the (clothed) maid
is an invisible voice balloon: Slut.
But. Consider the body,
unfragile, defiant, the pale nipples
staring you right in the bull's-eye.
Consider also the black ribbon
around the neck. What's under it?
A fine red threadline, where the head
was taken off and glued back on.
The body's on offer,
but the neck's as far as it goes.
This is no morsel.
Put clothes on her and you'd have a schoolteacher,
the kind with the brittle whiphand.
There's someone else in this room.
You, Monsieur Voyeur.
As for that object of yours
she's seen those before, and better.

I, the head, am the only subject
of this picture.
You, Sir, are furniture.
Get stuffed.
Extremely useful article about
Olympia
from
Salon.com
Only surviving painting by Victorine Meurent, from 1880's, and portrait of Victorine MEurent from her Carte de Visite.
Manet,
The Street Singer,
1862
Edouard Manet, Bar at the Folies Bergere, 1882,
Yasumasa Morimura
, Daughter of Art History (theater B)
, 1990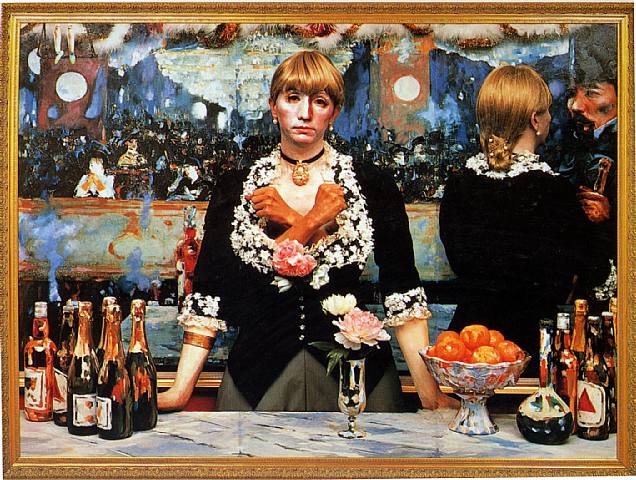 Yasumasa Morimura, Daughter of Art History (theater A), 1990
Yasumasa Morimura, Mona Lisa in Pregnancy, 1998
Chromogenic print on canvas, ed. 2/3
Yasumasa Morimura,
Daughter of Art History (Princess A)
, 1990
Eduard Manet,
Dejeuner sur l'Herbe (Luncheon on the Grass),
1863,